Community Meeting on Metro Link
SLACO has partnered with Washington University for a
community meeting
 regarding the North/South Metro Link and Health issues related to Metro Link.  We want our neighborhoods to participate.
No Charge!  Just your time
.  Please share with your neighbors and friends and contacts. We are limited in seating to
 90
 people! Please RSVP to
vacancy@slaco-mo.org
Please follow directions on the flyer!
Priority neighborhoods are Downtown, Benton Park, Benton Park West, Carondelet, Fairground, Hyde Park, Kingsway East, Kingsway West, Lafayette Square, Marine Villa, O'Fallon, Old North St. Louis, Penrose, St. Louis Place, and Tandy. All neighborhoods are welcome to participate.
Feb. 28th 6:30pm here at SLACO Offices!  We need and want your participation.
Thanks!
Kevin B. McKinney, Executive Director
St. Louis Association of Community Organizations(SLACO)
5888 Plymouth Ave.
St. Louis, MO 63112
Improving the quality of life in St. Louis neighborhoods through community-based initiatives, citizen empowerment and neighborhood organizing.
*******************************************************
News Release—Community Visioning at the Link Auditorium – 11/14/17
Please join us on Tuesday, November 14, 2017 for a Community Visioning Session at The Link Auditorium, 4504 Westminster Place at 6:30 pm (doors open at 5:30). This session, facilitated by the Kansas State University Technical Assistance to Brownfields Program, will seek community input into the future use of this historically significant building, formerly known as The Learning Center and the original home of the Wednesday Club. The Visioning goal is to meet community needs and desires.
This architecturally stunning building was designed by Theodore Link, commissioned by the Wednesday Club in 1908. It is Arts and Crafts style, Link's first foray into modernism. It holds a 500 seat auditorium with good acoustics and large, inviting rooms on the second floor. It is ideal for events and group meetings. Compare the difference between the Link-designed Second Presbyterian Church across the street. The Church features geometric stone while The Link Auditorium displays a prairie style.
The Wednesday Club of St. Louis was founded in 1890 by leading women of the City who wished to continue their intellectual growth and contribute to the community. Tennessee Williams' first public performances took place here. In more recent years, the Link Auditorium was acquired by The Learning Center where it became a vibrant teachers' exchange and resource center, continuing the mission started over 120 years ago.
The mission of The Link Auditorium is to promote an appreciation for various forms of human expression, critical thinking, alternative viewpoints, and a deeper respect for intellectual pursuits. We wish to inspire curiosity, broaden mental horizons, and engage in thoughtful discourse with respect for all. To that end, we encourage our community to discuss with us your ideas, your concerns and topics of interest.
You can read more on our Website, thelinkauditorium.org.
*******************************************************
Financial Aid – What you need to know
Wednesday, October 18, 2017 11AM – 12PM
or
12:30pm – 1:30pm
Dessert and Learn
1200 Market Street, Room 220 St. Louis, MO 63103
Link to poster: financial 10-18
******************************************************************
Free Credit & Money Management Workshop sponsored by the Office of Financial Empowerment
Barr Library
1701 S. Jefferson Ave. St. Louis, MO 63104
October 7: 9:30 a.m.-12:30 p.m.
Join us to learn about establishing or increasing your credit score, creating a budget, how to read a credit report and how to correct errors that may negatively affect your credit rating.
For more information or to RSVP, call Operation HOPE at (314) 566-4677 or visit www.stlofe.org/events
OperationHOPE.org
Operation HOPE is a 501(c)3 non-profit organization. HOPE Inside is a program delivery model of Operation HOPE. © 2016 Operation HOPE, Inc. All rights reserved.
Link to poster:  Credit 10-7
************************************************************************
WEST PINE LACLEDE NATIONAL NIGHT OUT 
TUESDAY, AUGUST 1, FROM 6 PM – 8 PM
Please join us – this will be a great opportunity to get to know your neighbors with ,games for the whole family, information on neighborhood crime prevention and ICE CREAM, FOOD and DRINKS!
Volunteers needed for set up and serving – a great way to meet even more neighbors. If you want to help, contact Jared Boyd at ljaredboyd@gmail.com.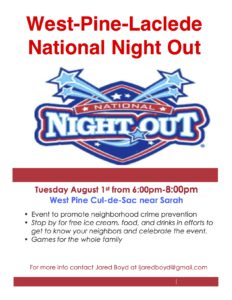 *************************************************************
SLACO Sustainable Neighborhood Academy
http://www.slaco-mo.org
**************************************************************
Flyer_SLACO_Community Discussion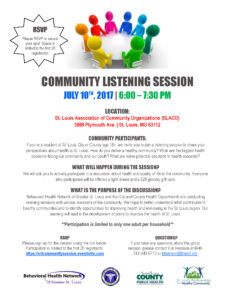 *******************************************************************
Regional Arts Commission Cultural Planning Initiative on June 22, 2017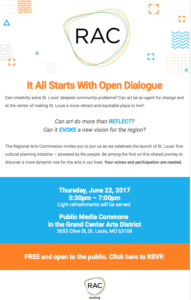 http://mailchi.mp/efba507f33b5/youre-invited-rac-cultural-plan-kickoff?e=4037cc7ec0