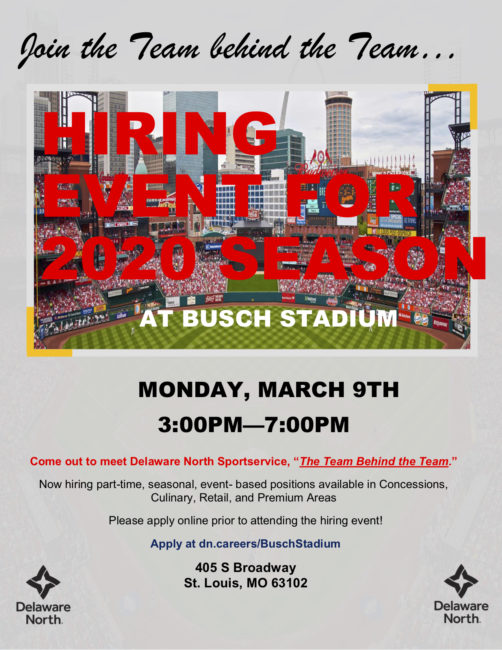 Delaware North Sportservice March Hiring Events
Hi Community Members,
We are quickly approaching St. Louis Cardinal Baseball Season 2020. We still have plenty of job openings, please be sure to share with your community members, staff and students.
Our March dates include:
March 9th, 3-7pm
March 19th, 3-7pm
All applicants must be at least 16 to apply and interview, no one under 16 will be allowed in, applicants must apply online before coming to the hiring events. Our career site is dn.careers/BuschStadium. We're actively hiring for concessions, culinary, retail and all premium areas. Our office is here at Busch Stadium. The address is 405. S Broadway, St. Louis MO. I am attaching a flyer as well. Please direct any questions to me if have any.
Make sure you follow us on facebook at SportserviceStLouisBaseball
Thanks,
Meaghan Cuautle
Human Resources Generalist
Delaware North Sportservice
Busch Stadium
405 S Broadway
St. Louis, MO 63102
T 314 345 9151
Apply Now at: dn.careers/BuschStadium
Like us on facebook at: SportserviceStLouisBaseball