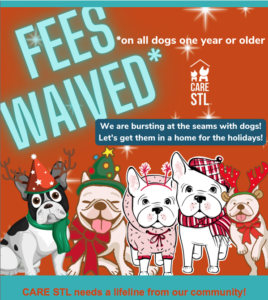 CARE STL is in REAL TROUBLE! We have over 30 dogs in crates. In the past ten days, 82d ogs have entered our shelter. Believe it or not, that used to be our top capacity. We now have 138 dogs in our shelter and 147 dogs in foster care. Our grand total of animals, including our cats, equals 550 animals in our care right now and 371 in foster homes. It's a bit overwhelming to say the least! We cannot sustain this rate without community involvement and getting more adopted.
Staff is in SURVIVAL mode; we need HELP! They literally RUN to move fast enough to help the public, take in dogs, deal with injured or shot dogs, answer phones, and try to keep it together for another day. Colder weather is coming in a few days, and we have no space or crates for more dogs. We are SCARED for what this week brings.
Adoptions are down, and we are a revolving door; no matter how many dogs we get out, twice as many come in. While we are grateful they are not out in the cold; this is impossible to keep up.
We cannot break, and we will not break, but we cannot do this alone. STL, this is beyond serious, and we are pleading for help. It's a harsh reality, and as hard as we try, the dogs are paying the price of being crated too long.
We are in a crisis like never before!!
We need our community to help get dogs out!!
How YOU can help:
adopt a dog, adopt a dog, adopt a dog! (ADOPT)
share our pleas and spread the word!
volunteer to be a dog walker! (VOLUNTEER)
foster a dog for at least 2 weeks! (FOSTER)
donate supplies, ie. leashes, collars, kitten wet food (Amazon Wishlist)
bring a group from your workplace and volunteer for a day Email Erica
donate (Donate Now!)
To help us find more loving homes for our dogs, we are waiving all adoption fees through December 31st!  
CARE STL
2700 Walnut Place
St. Louis, MO 63103
3146962444
http://www.icarestl.org