UPDATED LINK TO THE SITE:         https://gofund.me/375082e0
Neighborhood icon – Bob Kramer's Marionnettes burned down last night.  It is a huge loss to them, to the neighborhood, and to the world of puppetry. Bob's body was found in the rubble early this afternoon. Our hearts go out to Dug.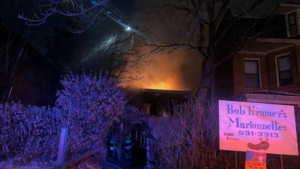 A GoFundMe platform has been set up.  Please consider donating and/or sharing this information with others.
https://www.gofundme.com/f/kramers-marionettes-disaster?member=24569601&utm_medium=email&utm_source=customer&utm_campaign=p_email%2Binvitesupporters
(If the link above is not live, you can copyist and past into your browser).