On Sunday afternoon, the neighborhood ATV patrol interrupted a garage burglary in the 4100 block of West Pine(my house).  The burglars accessed the backyard by cutting off a padlock on the fence gate and entered the garage through a side door.  Officer Mataya was patrolling the alley and noticed their suspicious behavior.  He chased down and arrested one of the two suspects who is now in custody.  The other fled the scene in a green pickup truck which was caught on camera by the CCTV camera at the end of the alley (see picture below).  The driver's identity is known to the police now but he is still at large.  If anyone sees this vehicle in the neighborhood, please call 911 (do NOT confront the driver yourself).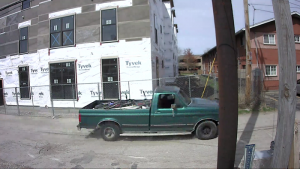 Other bicycles have recently been stolen from garages on the same alleyway.  If you have been victimized, please inform the police so that they can deploy additional resources appropriately.
Thanks go out to the security patrols!